THE NEW SINGLE from
THE HEATHERS

Release Date: June 6, 2014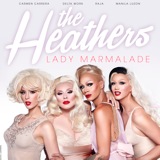 The lovable mean girls from Season 3 of Rupaul's Drag Race unleash their sassy if not provocative rendition of Labelle's timeless classic LADY MARMALADE. An overt tongue-in-cheek tribute to the cover version recorded by Pink, Christina Aguilera, Lil' Kim and Mya for the Moulin Rouge soundtrack in 2001, The Heathers dish out equal parts glamor, humor, tea and shade in this fun, campy and infectiously dance-y single and remix package. The gurls can be seen having way too much fun in the
music video
to accompany this release.


Included in this six-track single and remix package are two original versions by remix team Future Humans, as well as Hi-NRG radio and club dance floor offerings by
Casey Alva
and
Jared Jones
. The package is available on
iTunes
on Friday, June 6, 2014.

For more information about this release, please contact Adam Connie at info@quantumnoiserecords.com.