FOR IMMEDIATE RELEASE

Quantum Noise Records Presents:

Lakyra & Andre Xcellence: Strike it Up!

December 17, 2015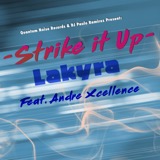 Los Angeles based DJ Paulo Ramirez and Quantum Noise records present a new version of the classic house song Strike it Up by Black Box. Featuring Lakyra and Andre Xcellence on vocals, this genre bending version has elements of EDM, Deep/Tropical/Electro House mixed with Hip Hop. Musically rooted to the original, yet totally different, this great new version is sure to get the attention of classic house lovers and new newer genres fans alike.


A native of Mississippi, Lakyra Williams dropped everything to move to California and pursue her musical dreams. She started out singing at the age of 5 in local churches, and was influenced by the Clark Sisters, Shirley Murdock, Freddie Jackson, and the late great Sylvester. Lakyra has performed in cities across the United States. This is Lakyra's first release, with much more to come from this excellent singer.
Andre Xcellence introduced himself to Hip Hop in 2015 with music that artfully blends urban beats and progressive house. In addition to Strike it Up, his latest tracks include "Game of Thrones", "Ice Cream" (a collaboration with RuPaul's Drag Race star Manila Luzon) and his most recent single, "Werk Out." His name, given to him by his college fraternity brothers, is a nod at his desire to strive for perfection. "I aim to be the voice of the voiceless and make great music with no politics." In addition to his recording work, Andre Xcellence heads the independent label, American Commission. He lives by the motto, "You do not have to like me, but you will respect me."


For over 15 years DJ Paulo Ramirez has brought fire to dance floors in Los Angeles California at the The Abbey, Micky's, Henry's, Here Lounge, Fubar, Teddy's at The Roosevelt, Mmhh, The Standard Hollywood, and at clubs in San Diego, Las Vegas and Seattle. His mixing skills and music selections bring a high energy experience to clubs and music festivals. Some of Paulo's musical projects include a remix of "Feels so Good" for We Are Nexus, "The Downtown Lights" for Shelley Harland, and an (as of now) unreleased version of "What Do You Want From Me" by Lexi Panterra.


For more information contact:


Quantum Noise Records
info@quantumnoiserecords.com
562–726-4508